Water Damage Restoration in Central Georgia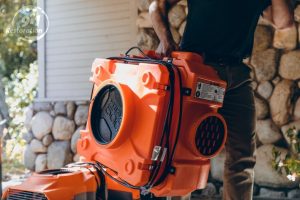 For such a seemingly gentle element, water can do an astounding amount of damage to your property. Whether it's your home or business, a leaky roof in Perry or a backflow pipe burst in Macon, water damage can permanently destroy the structures of your home and lead to mold contamination in the near future.
Fortunately, you have an emergency water damage restoration resource right here in Macon. 911 Restoration of Central Georgia has water damage restoration staff standing by, waiting to take your call no matter when disaster strikes. Human beings are on hand to take your call 24/7/365, and a water damage cleanup crew is guaranteed to be at your door within 45 minutes. Call us at (478) 314-7740 and allow us to offer you a free visual inspection.
When you call on 911 Restoration, you're calling on a staff of highly trained, IICRC certified experts. You can trust that these technicians are prepared to handle your property disaster quickly and safely. They're skilled in everything from water extraction to structural repair and mold remediation. In other words, no matter what kind of damage your water disaster has caused, you won't need any additional contractors. A single crew can take you from flooded basement to better-than-new in no time, and at a rate you can afford.
They even relieve you of the burden of insurance paperwork. A member of staff provides you with a free insurance consultation, so you can determine what benefits you are entitled to. They assist with filing a claim and bill your provider directly.
The stress can be overwhelming as you watch water flood your property and seep into your floors. Rest assured: there is a way to curb the damage and make today's incident feel like a far-off memory. Contact 911 Restoration of Central Georgia, and we'll show you how.
Emergency Flood Damage Cleanup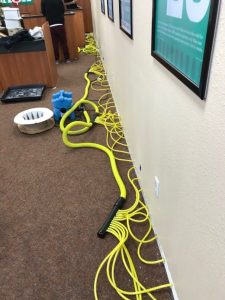 If water is threatening the integrity of your home, you're likely calculating the potential damage as the seconds tick by. Will your floorboards rot? Will your carpet be destroyed? Will you get mold in your walls?
The water damage restoration crew at 911 Restoration are well aware that even a few minutes can mean the difference between major damages and minor water extraction issue. They don't waste a second in getting to your property or in remediating the situation once they arrive.
After offering a free visual inspection to property owners, they get to work, zeroing in on the first priority. This could mean packing out and storing your belongings, water extraction, emergency roof or storm repair, leak detection, or boarding up. They don't just get rid of the water; they determine the cause of the issue and take measures to protect your property against a repeat problem in the future. Once they've extracted all water from your home or business, they dry and dehumidify the area with professional fans to prevent long-term damage from mold and sitting moisture. If any surfaces have been destroyed by water, they tear out the damaged structure and replace it with new material. They even follow the water damage restoration process with a mold inspection and mold removal.
At 911 Restoration, we believe in turning a disaster into an opportunity for a Fresh Start. With this philosophy in mind, technicians leave no stone unturned when it comes to fully restoring your property. They do more than get rid of the problem. They resolve the cause and guard against future damage with a mold inspection, leaving your home or business in a healthier state than it was in yesterday.
If you need water damage restoration in Macon, Warner Robins, Perry, or the surrounding area, contact 911 Restoration of Central Georgia for immediate, expert assistance at (478) 314-7740.
Comprehensive Water And Mold Restoration Services
Water damage restoration in Macon requires more forethought than many people realize. Property damages can extend well beyond warped hardwood. This is why 911 Restoration insists on fully comprehensive service, ensuring all property owners can move on feeling sure of the health and safety of their home or business.
One of the most essential elements of comprehensive service is mold inspection and remediation. It only takes 24-48 hours of moisture exposure for mold spores to develop into colonies. Considering the constant presence of mold spores in even the most pristine properties, mold contamination seems almost inevitable in the wake of water damage.
Water damage restoration technicians include mold inspection in every job. They examine every vulnerable surface for mold, and if they find any, they take a sample to a third-party laboratory for testing. Once they know for sure what type of infestation you have, they commence mold decontamination. They follow mold removal with structural dehumidifying to ensure your property is less hospitable to growth in the future.
No matter what needs arise from your property water incident—whether it's structural repair, mold remediation, or simple water extraction—911 Restoration of Central Georgia is here for you. Call today and let an expert crew give you the relief of a Fresh Start. Call us at (478) 314-7740 and see how we can help.
Serving the communities of Bonaire, Fort Valley, Kathleen, Lizella, Macon, Perry, Warner Robins, Bibb County and surrounding areas.