Water Damage and Mold Removal in Macon
You deserve a Fresh Start after a flood, hurricane, or pipe burst in Macon. Get the assistance you need 24/7/365 from 911 Restoration of Central Georgia. Our IICRC certified water damage restoration and mold removal crews can reach your property within 45 minutes of an emergency call. Call us at (478) 314-7740 and allow us to offer you a free visual inspection.

Once Macon flood cleanup experts arrive at your property, they can perform a water damage and mold inspection. Crews begin prompt water extraction to get rid of water left behind by a foundation basement leak, frozen pipes, or a flooded toilet.
You can rely on us to take care of water damage mitigation and mold remediation in Macon. Crews are licensed, bonded, and insured to handle a flooded basement, a sewage backup, or a major fungal infestation. 
Here at 911 Restoration of Central Georgia, we know it's important to move quickly in an emergency situation. Water damage restoration and mold decontamination pros can reach your property in under an hour to renovate and repair your home or business.
When Should You Start Water Damage Restoration in Macon?
You should start water damage restoration in Macon as quickly as possible if you have a pipe burst or a flooded basement. Water damage contractors at 911 Restoration of Central Georgia are on-call around the clock. Getting help right away can:
Stop additional damage from occurring

Cut down on the time flood cleanup will take

Reduce the costs for water damage restoration
Fast flood cleanup can also lower the chances that you'll have a mold outbreak following a pipe burst, ceiling leak, or flood. Crews can check for signs of fungal growth with a mold inspection in Macon. If we notice evidence of mold, techs can start mold removal right away.
Mold remediation in Macon can be required to bring your property back to perfect condition. Let us determine if you need mold decontamination and cleanup services today. We're here to help if you have hurricane damage, a sewage spill, or a flooded basement in Macon. Call us at (478) 314-7740 and see how we can help.
What Happens During Mold Remediation in Macon?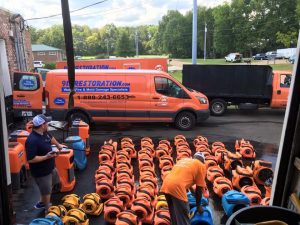 Mold remediation in Macon can eradicate all evidence of a fungal infestation in your home or business. Macon mold removal techs work to wipe out fungal growth by:
Performing a mold inspection

Isolating areas with mold growth

Disinfecting all surfaces exposed to mold

Finishing mold decontamination and odor removal
Mold decontamination experts in Macon have the training to handle all forms of mold, including toxic black molds. The professionals at 911 Restoration of Central Georgia are prepared to take care of both mold removal and water damage restoration for you. Let us get started now with a water damage and mold inspection.
You can reach out to us as soon as you experience a flooded basement, pipe burst, or hurricane damage. Crews race out to begin same-day flood cleanup and mold remediation throughout Macon. We'll put your needs first and focus on giving you back your peace of mind after a mold outbreak, sewage backup, or water leak. Call us at (478) 314-7740.

Servicing the cities of Bibb County, Bonaire, Byron, Dry Branch, Forsyth, Fort Valley, Gray, Haddock, Juliette, Kathleen, Knoxville, Lizella, Macon, Musella, Perry, Warner Rbins… and surrounding areas.