Mold Removal in Central Georgia
Mold is one of the most persistent property struggles, especially in Macon, where high humidity makes it nearly impossible to keep the structures of your property dry. Mold is sneaky, thriving in dark corners, inside pipes, and within walls. You might go months without even realizing it's there. If you're lucky enough to see it right away, however, don't let mold remediation fall to the bottom of your to-do list. Colonies grow fast, cause damage, and pose a threat to your health.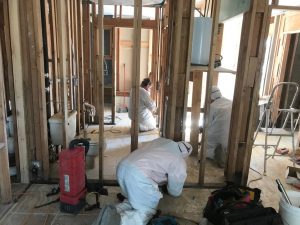 If you've got mold, you need the help of the highly trained mold remediation specialists at 911 Restoration of Central Georgia. Our technicians have all been IICRC certified, which means they're true experts on every step of the mold removal process. They know where to find growth, how to identify it, how to remove it without spreading spores throughout your property, and how to treat your structures so your home or business is less hospitable to mold in the future. Call us at (478) 314-7740 and allow us to offer you a free visual inspection.
The crew at 911 Restoration aren't just mold cleanup experts. They're also human beings who know the stresses and danger of mold contamination. Whether they learned on the job or learned from going through a mold infestation themselves, they know how it feels to have your carefully loved property feel suddenly overrun with fungus. Hand the reins over to them, and you can be sure they'll treat your home or business as if it were their own, taking every step to reduce damages and leave your place in better-than-new condition.
For compassionate, quality mold remediation in Macon, call 911 Restoration today.
Removing Mold From Water Damage
Has your property recently been hit by water damage? Any form of water incident—from dripping pipes to basement floods—can make your property especially vulnerable to mold.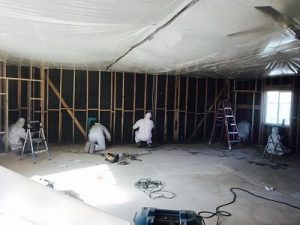 Mold spores are constantly in the air around you, no matter how clean or well-kept your home is. When any surface is left damp for 24-48 hours, mold spores can land on that space and grow into a thriving colony. Even if water was extracted from your property within 24 hours, it often takes longer to fully dehumidify a water damaged surface, meaning spores might still find a welcome place on your drywall, beneath your floorboards, or within your carpet. Even seemingly impenetrable concrete can soak up water, hold it in like a sponge, then allow moisture to resurface and lead to mold growth.
As a water damage cleanup company, 911 Restoration always includes mold inspection and mold decontamination as part of our water remediation services. If you used another company for water extraction or handled flood cleanup yourself and you think you may have an infestation, no problem. Our mold remediation technicians have you covered.
They offer a free visual inspection for property owners, examining both the area where you see mold colonies and viewing nearby surfaces where additional growth might not be so obvious. What they discover, they remove, using professional tools for structural drying to prevent a future infestation.
When water damage leads to mold growth, it can start to feel like caring for your property is a never-ending battle. Rest assured, the battle ends with 911 Restoration. Call us now at (478) 314-7740.
Certified Mold Inspectors In Central Georgia
Why is it so important to work with an IICRC certified mold remediation company?
It's not uncommon for property owners to think mold removal can be handled with home remedies or household cleaning products. The truth is mold is a far more complicated organism than that. Even if it looks like you've successfully removed mold with a little scrubbing, you're likely to see the colony rise again. Not to mention, you may have done damage to your health in your mold remediation attempts.
There are several varieties of mold, and some can be highly toxic. Black mold is the most infamous of the toxic molds, due to the many mycotoxins this variety releases into the air. If you inhale a significant amount of mycotoxins, they can create a state of toxicity in your system. This leads to a range of health issues, from heightened allergy symptoms to heart problems.
Toxicity is one of many reasons why it's essential to call on an IICRC certified mold cleanup company to handle mold decontamination as soon as you notice a colony. With the highly trained technicians of 911 Restoration, you can expect a thorough mold inspection, as well as third-party laboratory testing to ensure both you and your mold cleanup specialist understand the risks of your specific infestation. Our experts then remove the mold with professional tools and the utmost care to avoid spreading spores or mycotoxins throughout your property.
Mold is unsightly, dangerous, and inconspicuous. But with the caring attention of the mold removal crew at 911 Restoration of Central Georgia, you be expect to feel in control of your property once again. Call today and let our staff give you a truly Fresh Start with mold cleanup in Macon. Call us at (478) 314-7740 and see how we can help.
Serving the communities of Bonaire, Fort Valley, Kathleen, Lizella, Macon, Perry, Warner Robins, Bibb County and surrounding areas.