Disaster Restoration
Life is unpredictable, and no matter how hard you work to protect your property, unexpected events can turn a treasured refuge into a disaster area in a matter of minutes. With Macon's sometimes severe weather patterns, local properties are especially vulnerable to the whims of Mother Nature.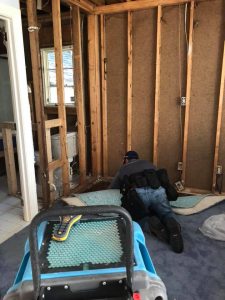 However, there is one thing you can count on: 911 Restoration of Central Georgia. Your local disaster restoration experts are 100% predictable: predictably skilled, predictably responsive, and predictably compassionate. Whether you've been hit by a hurricane, tornado, home flooding, or property fire, our IICRC certified disaster restoration experts are ready and available to repair your damages and get you back on your feet.
They know you can't control the timing of a disaster, so they have staff on call 24/7/365. You can call now and a crew will be at your door within 45 minutes, guaranteed. They offer a free visual inspection for property owners in need of disaster restoration in Macon, so you go into the cleanup process with total understanding of your unique needs and the extent of your damages. Call us at (478) 314-7740 and allow us to offer you a free visual inspection.
Many property disasters come with risks to your health and safety, as well as the structure of your home or business. The technicians at 911 Restoration treat you as the neighbor you are, prioritizing your best interests above all else. They have been thoroughly trained to remove disease-causing bacteria after a sewage backup. They know how to conduct mold decontamination without spreading toxins throughout your property. They permanently remove smoke and odor during fire damage cleanup so you can breathe safely again. They perform structural inspection and repair after water damage to ensure your property is still sturdy and sound.
Your peace of mind is our number one priority. If you're in need of disaster restoration in Macon, Warner Robins, Perry, or the surrounding area, contact 911 Restoration for fast, compassionate service.
Emergency Fire, Water, And Mold Restoration
Do you need mold removal in Macon? Fire damage cleanup? Assistance with home flooding? All of the above?
When your property is hit by a disaster, the cleanup process is often complicated and varied. A property fire might also call for water damage restoration due to flooding from fire hoses. A home flood often requires mold removal in addition to water cleanup. Pipe bursts, sewage backups, storm and tornado damages…all these events may demand a wide range of services and a number of repairs.
Thankfully, 911 Restoration of Central Georgia can handle anything.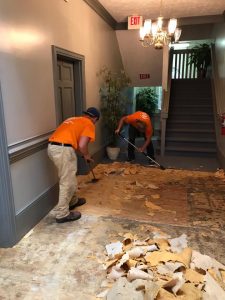 If you've had a property fire or puffback, fire damage cleanup experts use sodablasting to eliminate soot, ash, smoke damage, and odor permanently. They clean your furniture and dishes and repair every damaged structure, from your roof to your floorboards.
Disaster restoration staff respond to water damage with the utmost urgency. They work quickly to extract the water, remove and replace damaged flooring and drywall, and completely dry the structures of your property to prevent weakness, warping, and mold. If water is still flooding into your home when they arrive, they handle those repairs, too. This includes emergency roof repair, boarding up, leak detection, and storm repair.
If mold does appear on your property, either as a result of another disaster or as an independent incident, our IICRC certified mold removal technicians inspect, identify, and eliminate the infestation safely. They even include third-party laboratory testing so you have no doubts about the nature and risks of your unique mold removal needs.
Every disaster is overwhelming, disheartening, and even devastating. If you feel hopeless, helpless, and at a loss for how to move forward, you're not alone. Many property owners feel paralyzed in the wake of a disaster. And that's okay, because the disaster restoration staff at 911 Restoration are here to make sense of the mess for you. They believe every disaster is an opportunity to build again, better than ever.
Call 911 Restoration of Central Georgia today at (478) 314-7740, and let expert technicians show you why this nightmare is a Fresh Start in disguise.
Free Homeowners Insurance Consultation
No one likes to think about the expense of a property disaster. Even more significantly, many people struggle to understand the expense, as it isn't immediately clear which costs will fall on them and which will be covered by their insurance provider.
Your friendly disaster restoration staff know how challenging the insurance process can be, especially when your mind is already reeling after home flooding or fire damage. They do all they can to make the financial aspect of restoration easy for you with a free insurance consultation. They explain the ins and outs of your insurance plan so you know exactly which benefits to expect. They also cover all your paperwork concerns, from filing a claim to inventory and loss itemization to direct billing.
At 911 Restoration of Central Georgia, our goal is to get you through this challenging period as quickly as possible so you can enjoy the new beginning that lies on the other side. Don't let the stress weigh on you a moment longer. Call us now at (478) 314-7740.
Serving the communities of Bonaire, Fort Valley, Kathleen, Lizella, Macon, Perry, Warner Robins, Bibb County and surrounding areas.