Fire Damage Restoration In Central Georgia
Your prized property—covered in soot and smelling of smoke and ash.
It's a devastating scenario for anyone, whether your damages are from a puffback or a property fire.
The fire damage restoration technicians at 911 Restoration of Central Georgia understand. They've seen their fair share of fire and smoke damage, and they know how difficult it can be to imagine your home or business fully restored when it's currently covered in black smudges and a persistent odor. Rest assured, the right fire cleanup company can rediscover your beloved property beneath all the destruction. A full recovery is closer and less costly than you think. Call us at (478) 314-7740 and allow us to offer you a free visual inspection.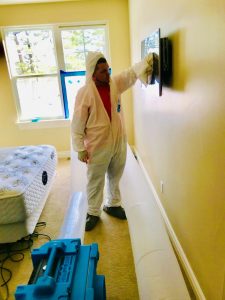 Consider 911 Restoration your Fire Information Center, with a friendly fire and smoke removal staff who are happy to answer all your questions. They provide a free fire damage assessment, help you make sense of your insurance, and save you the headache of hiring multiple contractors by offering comprehensive fire and puffback cleanup services.
When the experts at 911 Restoration take on fire damage restoration in Macon, they see to your every imaginable need. They handle smoke and odor removal, clean all the surfaces in your home or business, and repair structural damage. If your property has been soaked by the noble efforts of a fire hose, your cleanup techs have you covered there, too. Every single one of our smoke restoration specialists is IICRC certified and trained in water extraction, structural drying, and mold remediation.
Our goal at 911 Restoration is greater than property repair. Fire cleanup technicians work diligently to fully restore and renovate your home or business, returning your property to better-than-new condition without the need for multiple contractors.
Even if it feels like your world is currently in shambles, 911 Restoration of Central Georgia can make your property even better than it was before disaster struck. Call today for a Fresh Start at (478) 314-7740.
Fire, Water, And Mold Restoration Services
Fire damage restoration is a complex and comprehensive process. You deserve a crew who can handle every aspect of your fire or puffback cleanup.
With 911 Restoration, you can count on permanent odor removal. Smoke restoration technicians use sodablasting techniques to remove ash, soot, and smoke from the surfaces of your property. Sodablasting is a powerful process that eliminates both the stain and the microscopic particles that cause that stubborn odor.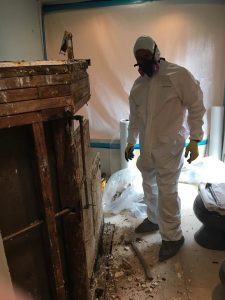 Your smoke restoration team will also clean your furniture and dishes. Before beginning this process, they identify any items that were not harmed by the puffback or fire and pack them away so they remain undamaged during fire cleanup.
If the fire department left a fire hose flooding behind, fire damage restoration experts can handle that, too. They extract any standing water, fully dry the structures of your property, and inspect all surfaces for mold that may have resulted from long exposure to moisture. If they find mold, they remove it promptly.
They even replace any part of your home or business that has fire or smoke damage so severe it cannot be salvaged. It doesn't matter what your needs are. Carpet replacement, new flooring or drywall, roof repair…our fire damage restoration specialists do it all.
By the time the staff leaves your property, you'll no longer recognize it as the ash-covered structure you see today. If you're ready to put your property fire or puffback firmly in the past, call 911 Restoration of Central Georgia today at (478) 314-7740.
Free Insurance Consultation For Fire Damage Restoration
Does your insurance plan cover smoke restoration in Macon? Water cleanup? Mold decontamination? Structural repairs?
In most cases, fire cleanup requires a wide variety of services. It's not unusual for property owners to be overwhelmed as they try to figure out what is and is not covered by their insurance provider. Not to mention, when your mind is already swimming with all the other worries of fire damage recovery, it can be difficult to focus on complicated insurance processes…and easy to make a mistake.
911 Restoration has your back. A friendly staff member sits down with you for a free insurance consultation. They'll help you understand your insurance coverage so you know exactly what to expect going forward. They also assist with filing a claim, inventory and loss itemization, and direct billing. With their support, you can be sure you'll get every benefit you are entitled to.
The staff at 911 Restoration of Central Georgia understands what you're going through. They know that from where you're standing, a full recovery feels expensive, far away, and nearly impossible. But they also know your Fresh Start requires only one simple step from you:
Call 911 Restoration of Central Georgia at (478) 314-7740 and hand every last worry over to us.