Water Damage in Central Georgia
Weather Alert: If you are experiencing weather-related damage from the storm, call us today for emergency assistance! 
911 Restoration of Central Georgia
Water damage in Georgie happens without warning and often at the worst times. Whether it's a sewage backup, a fire, or a flooded basement, any destruction caused to your home or business demands immediate attention, interrupts your life, and has the potential to set you back financially…especially if you choose the wrong restoration company.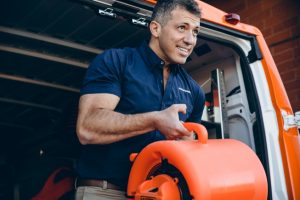 911 Restoration of Central Georgia recognizes what's at stake when your property falls victim to an unexpected incident. That's why our dedicated disaster restoration technicians work hard to deliver immediate peace of mind in addition to expert service.
Our friendly staff is waiting to take your call 24/7/365, so you don't have to wait a second too long for the assistance you need. Damage restoration workers arrive at your home or business within 45 minutes of your call, guaranteed. They work quickly to minimize damages and ensure you get the comprehensive repair at an affordable rate. 911 Restoration also works with all insurance companies and provides a free insurance consultation so you understand exactly what benefits you're entitled to.
911 Restoration is a licensed, insured, and bonded restoration company. Every one of our technicians is IICRC certified, so you know you're getting truly expert service. Call us at (478) 314-7740 and allow us to offer you a free visual inspection.
Perhaps most importantly, 911 Restoration of Central Georgia offers the knowledge and resources of a nationwide company alongside the neighborly compassion of a business that is locally owned and operated. The disaster restoration staff and technicians are more than contractors—they're your neighbors. As such, they set high standards for their work and they're careful to communicate with you every step of the way, starting with a free visual inspection for property owners.
At 911 Restoration of Central Georgia, we offer a Fresh Start with our comprehensive selection of property damage restoration services, including but not limited to:
Whether you're a Central Georgia homeowner or business owner, 911 Restoration of Central Georgia is your Fresh Start! We'll communicate with you throughout the entire process, help answer questions related to insurance, and restore your property to its pre-damaged condition. One of our IICRC-certified teams is dispatched within 45 minutes of your call! Contact us today, and one of our friendly representatives will assist you in finding the nearest Central Georgia location.
Service area map
Water Damage Restoration
Water damage can take many forms, but in the climate of Macon, Georgia, wild weather patterns and freezing temperatures are often the culprit. Maybe your pipes have frozen, causing a pipe burst that sprays gallons of water into your business. Or perhaps you're dealing with a flooded basement following a storm or hurricane. Whatever the cause, 911 Restoration is here to help.
Water damage restoration professionals are on the scene in an instant. They work quickly to remove the water, dry the area, and check for mold contamination resulting from excess dampness in the structures of your property. If your home or business has any permanent damages—rotting floorboards, destroyed drywall, contaminated carpet, or anything else—your friendly water damage technicians remove and replace any surface that cannot be salvaged.
No matter what kind of water damage you're experiencing or how extensive the harm is, our IICRC certified water damage experts can restore your property to better-than-new condition. Call today for prompt assistance with water damage in Macon. Call us at (478) 314-7740 and see how we can help.
Gregory Fetz
"Had to have a window replaced in our 100 year old home. They came in replaced the window, took two days from the amount of work due to age of home and did an outstanding job. Will definitely use them again in the future. I highly recommend this company for home repairs"
Sanitization Services & Disinfection Solutions
At this point, everyone worldwide knows how devastating the coronavirus impact has become. Whether you're a business or an individual, everything has changed. Things won't get better without everyone doing their part to fix the problem. That's why the most important thing we can all do is maintain our personal hygiene.
Property owners are in a position to ensure their buildings become and remain safe once again by staying on top of their sanitization and disinfection solutions. All of our technicians are trained to remain compliant with all current CDC and EPA protocols to ensure optimal results with our sanitization services. As a community, we'll get through this. As your restoration company, we'll make sure you have the peace of mind you deserve.
Mold Removal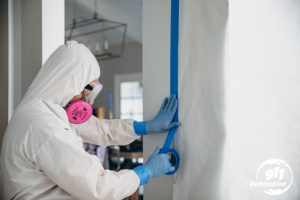 The high humidity of Macon makes mold especially common for home and business owners. Even the slightest damp spot can persist in this muggy climate and ultimately flourish into a full-blown colony.
911 Restoration of Central Georgia provides professional mold inspection and sampling. Certified mold remediation technicians examine the at-risk areas of your property, including dark, hidden spaces where an infestation is likely to thrive. They use professional tools to remove mold safely and effectively, careful not to spread spores or mold toxins throughout your property. These mold removal specialists are highly trained to recognize toxic varieties of mold so they can be sure to remediate your situation with the utmost care and caution.
If you've had recent water damage in Macon or are concerned about a suspicious growth in your home or business, contact 911 Restoration of Central Georgia at (478) 314-7740. Expert mold remediation professionals will decontaminate your space and set you off on a Fresh Start.
Sewage Backup And Cleanup
A sewage backup is every property owner's worst nightmare. Not only is blackwater unpleasant to have in any space; it also carries a wide variety of microbes that can be hazardous to your health. When you have a sewage or toilet water backup, it's imperative that you call an emergency crew like 911 Restoration to extract the sewage right away.
Sewage removal technicians are on call day or night, any day of the year. They respond to your request for assistance immediately, and they take your job personally, as if the backup were in their own property, with their own family's health on the line. The professionals at 911 Restoration work swiftly to remove sewage and sanitize your home or business. They repair any structural damages and dry the area using professional-grade fans to prevent further rotting or mold contamination.
911 Restoration of Central Georgia knows as well as you do: You can't afford to wait a second too long when it comes to a sewage backup. Call now for emergency service.
Fire And Smoke Damage Restoration
Fire and smoke damage can make a beloved property feel like contaminated space. The fire damage cleanup crew at 911 Restoration understands the stress you're under. They work diligently to help you move towards a Fresh Start as quickly and easily as possible.
They offer full-service fire damage cleanup in Macon. This involves a comprehensive approach to repairing and renovating your home or office completely. In addition to smoke, soot, ash, and odor removal, the restoration specialists clean all surfaces, furniture, and even dishes. They repair every permanently damaged surface, and they address any water damage left by the fire hose. When your property has been soaked in the effort to put out the flames, count on the fire damage cleanup experts to conduct mold inspection and removal as well.
Even if your property looks like it's far from new, trust us. The staff of 911 Restoration can turn things around faster than you imagine. Call today at (478) 314-7740 and let a team of trusted experts take the burden of fire damage cleanup off your shoulders.
Disaster Restoration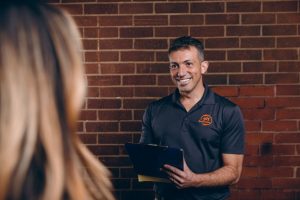 Hurricanes. Tornadoes. Floods. Macon has been hit by the unexpected plenty of times in the past, and the disaster restoration technicians at 911 Restoration of Central Georgia are all-too-familiar with the stress property owners experience in the wake of a disaster. That's why they take every possible step to make recovery as easy, affordable, and quick as possible.
In addition to a guaranteed 45-minute emergency response time, disaster restoration staff offer true expertise. They are highly trained to manage any damage you're facing, including water damage, fire and smoke damage, and mold removal. They can repair any structure and leave your property feeling brand new.
No matter what your property has been through, 911 Restoration is here to help you recover quickly. Call today at (478) 314-7740 and let our compassionate staff put today's crisis in the past.
Serving the communities of Bonaire, Fort Valley, Kathleen, Lizella, Macon, Perry, Warner Robins, Bibb County and surrounding areas.