What do I do after I have water damage?
Water Damage 101
According to industry estimates, 10 water damage emergencies occur every minute. That's right — every day, 14,000 Americans experience water damage emergencies at home or work. It's important to deal with water damage as quickly as possible to prevent secondary damage to your home or business. The longer you wait, the more damage you may experience.
I have water damage. Now what?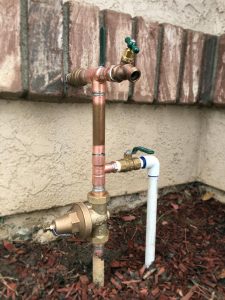 If you come home to your pet floating around the family room on a sofa cushion raft, the first thing you need to do is shut off the water source. When you locate the leak, find the shut off valve and turn it to stop the water flow. Most sinks, toilets, and ice makers have a water supply line shut off valve. The most common places to look are on a back wall, under a vanity or cabinet, or behind the toilet under the tank. Ice maker lines can be a little more difficult to locate; you might have to slide your refrigerator away from the wall to get to those. If you can't find the water source, or if there's no shut off valve, you may have to cut off the water to the entire home.
Locate your water meter; it may be on the street near the curb. It will likely have a heavy metal cover that you may need a large screwdriver or pry bar to remove. Be careful and look inside the box before you reach in when you open it; make sure that it isn't housing wasps, bugs, or small varmints. You should see a pipe leading into the water meter. Just before the pipe reaches the meter, you'll see a valve to shut off the water. When the top of the valve is pointed the same direction as the pipe, it is open and allows water to flow. When the valve is pointed sideways, it is closed and will stop the water flow. You will need a tool to turn the valve to the closed position — professionals use a device called a water key. If you don't have one, you can use a pair of large slip-joint pliers, commonly referred to as Channellock pliers. Don't be surprised if it's very hard to turn. You may have to call someone with a water key or a professional to help you shut it off.
Assess your water damage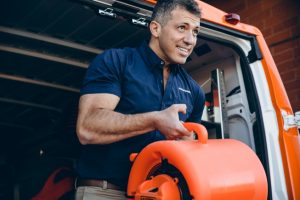 After you have stopped the water, assess the damage. Take a look around to see what areas are affected. BE SAFE! Do not attempt to relocate or unplug any electrical appliances, clocks, radios, or anything else that is attached to a power source. Use care when walking on wet flooring materials to avoid slipping and falling.
There's often more water in the flooring and structural materials than you think. Household plumbing can allow close to 1000 gallons of water flow per hour. Unfortunately, if you don't own a truck-mounted water extraction machine, it's going to be very difficult to remove the water from your home. Even Walmart doesn't stock enough towels to soak up the amount of water found in most water damage situations, and you don't want to spend hours washing and drying towels. Call a water damage professional like 911 Restoration of Central Georgia. Our technicians are trained and certified to help you with any water damage emergency, large or small. And we're only a phone call away, 24 hours a day, 7 days a week. Call 478-353-9907. 
Once crews are on the way, be sure to notify your insurance company claims office. They usually have a 24 hour phone number, or you can file a claim online. Let them know that 911 Restoration is on the way. In short order, your home will be returned to a pre-loss condition.